It's hard for even me to believe, but I've decided that Code Red is going to be my final contribution to the Mitch Rapp series.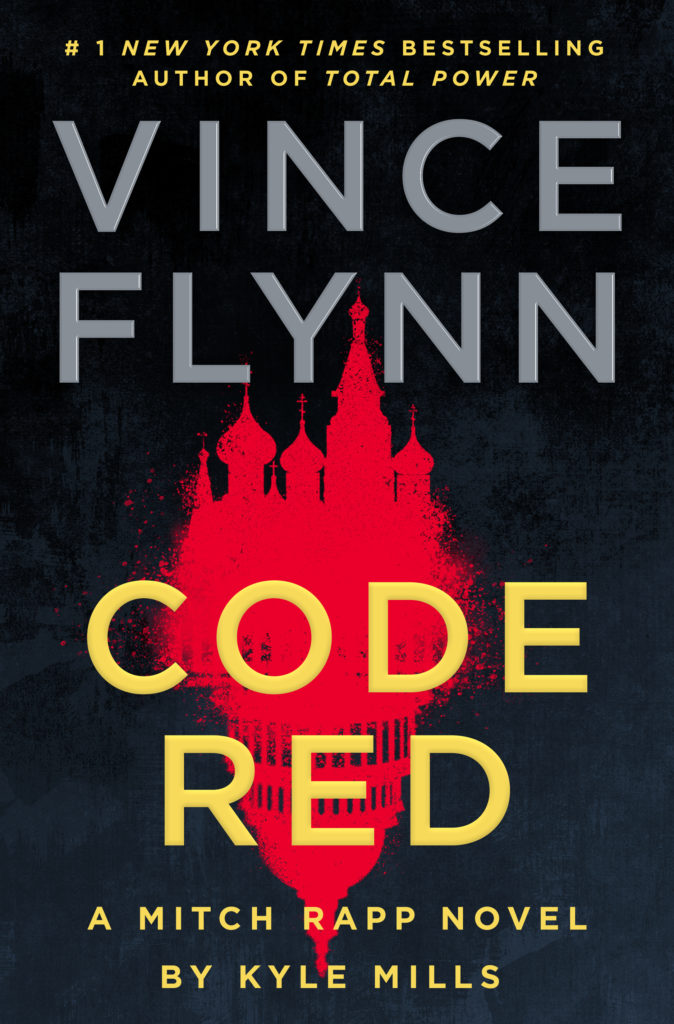 For the last decade, I've been overwhelmed by the support I've received from fans, from Vince's family, and from his team at Emily Bestler Books. Mitch means so much to so many people. It's been an honor to keep him alive and kicking ass. Not to mention a lot of fun. It's not every day that someone hands you one of your favorite literary characters and tells you to run with him.
So why now? Am I just nuts?
Fade
Maybe a little bit. But the other reason is that I've had a character bouncing around in my head for years now and I can't seem to shut him up. When I finished the novel Fade in 2003, I left former Navy SEAL Salam al-Fayed bleeding out on a hospital floor. Right where he wanted to be, frankly.
For a time, he was gone to me. The driving force behind his character was that he was doomed, and I'd known from page one that things wouldn't end well for him. Eventually, though, I came to see him as lying in a coma—a hazy image that I thought I'd shake but that instead has become increasingly sharp.
In the years since I wrote the book, the world has changed radically. Technology has advanced at a dizzying pace. Russia has once again become a dangerous geopolitical antagonist. China is trying to put itself on top of the world order. Divisions within America have intensified in a way that only a short time ago would have been unimaginable.
Where is all this leading?
It's a question that's begging to have a series devoted to it. The problem was that it didn't feel right for Mitch. He's the master of his universe and I needed a character who could be swept along—someone with no political clout, no prospects, and no allies.
When I realized this, Fade began to stir from his long sleep. How would he view the world he's suddenly thrust into? Could he ever be the man he once was? Did he want to be? His only real talent was killing, something he'd always seen as a bit of a cosmic joke. Why not music, juggling chainsaws, or baking? Everyone loves a good apple pie, but very few people want to see their husband, father, or brother die at his hands.
Unfortunately, one thing that hasn't changed during his time languishing in a hospital bed is the need for men possessing his peculiar skillset. With no life and a list of sins that will get him executed if the government discovers he's conscious again, there aren't a lot of options.
So when Fade is offered physical rehabilitation, anonymity, and a level of privilege he never knew existed, it seems slightly more appealing than putting a gun in his mouth and returning to the oblivion he'd become so accustomed to.
Or is it?
I'm honestly not sure. But I hope you'll join me and Fade as we figure it out.
Mitch Rapp
What about Mitch, you ask? No need to worry. Vince's family hit a home run and signed my good friend Don Bentley to take over. For those who haven't read his Matt Drake series or his contributions to the Tom Clancy universe, you're missing out. He's an exceptionally talented writer with a background in both the army and FBI, making him perfect for the job. Further, Emily Bestler—Vince's editor and the keel that's kept the series on track since the beginning—will continue running the show. Readers will get the best of all worlds: fresh ideas and perspectives, but ones that are still anchored to the foundations that have proven themselves time and time again.
And, of course, I'll continue to be there for everyone involved—Don, Emily, and readers.
I have to admit that I'm kind of excited. After all this time as the master of the Rappverse, I'm looking forward to being a fan again. There's nothing quite like rushing out to a bookstore on pub day, clearing my calendar, and plopping on the sofa to join Mitch on his latest adventure. Until now, I didn't realize how much I missed it.
Thanks to everyone. It's been one hell of a ride.